Original Toll House Chocolate Chip Cookies Recipe
Difficulty: Easy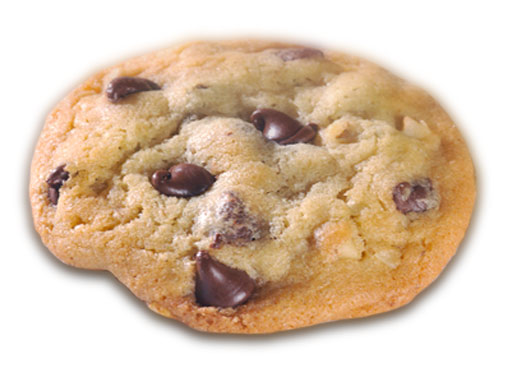 The short history
In 1930, in the outskirts of Whitman Massachusetts, Ruth and her husband Kenneth purchased a 1709 old cape-cod styled house. The made it a guest house and called it the Toll House Inn. The guest always enjoyed eating delicious house made meals prepared by Ruth Wakefield. Her meals and deserts became very popular and renowned in the region.
One day, Ruth added some chocolate morsels, Nestle semi-sweet to be more precise, into some butter cookie dough since she ran out of baker's chocolate. She was expecting the chocolate to melt and become an homogeneous part of the dough, but instead the chips only softened. Guests were delighted by these and her recipe even ended in some New England newspaper.
The popularity of the Nestle chocolate semi-sweet bar then exploded and the company got an agreement with Ruth to put her recipe on the bar packages in exchange for a life time supply of chocolate for her cookies. They called it "The Famous Toll House Cookie".
A few years later, in order to make it easier on cooks to create these cookies, Nestle started to pre-chop the chocolate bars into chips.
So this was the history and now many variations of this original recipe were made and experienced like the ones you can find on this website.
The recipe
Ok, let's now move on with the actual Toll House chocolate chip cookie recipe...
Ingredients
2 cups, or one 12-ounce package, of Toll House (by Nestle) Chocolate Morsels (Semi-Sweet)
2 1/4 cups of white flour
1 cup of softened butter
1 tsp. of baking soda
3/4 cup of granulated sugar
1 tsp. of salt
2 eggs
1 cup of chopped nuts
3/4 cup of packed brown sugar
1 tsp. of vanilla extract
Instructions
Preheat Oven to 375 degree F.
Mix
Preheat oven to 375 degree F. Mix the flour, salt and baking soda in a bowl. Incorporate and stir the buter, sugars and the vanilla extract into a larger bowl. Add the eggs while beating well for each of them. Gradually incorporate the flour mixture (small bowl) while beating. Stir in the chocolate and nuts.
Layout
On an ungreased oven sheets, make tablespoon sized dough. Place at least 2 inches apart.
Bake
Place in oven and bake for a bout 10 minutes or until the cookies get goldened but not too brown. Take out and leave these to cool for two to five minutes.